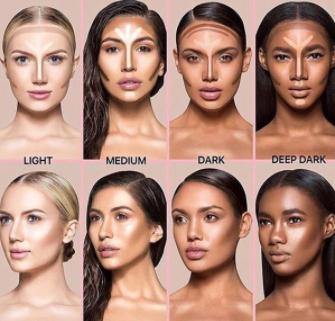 Do you ever wonder why our favorite celebrities always manage to glow on the red carpet? The secret: contouring and highlighting. The purpose of contouring is to enhance your facial features by adding definition, while highlighting is used to brighten parts of your face to make your facial features stand out. Contouring and highlighting will ensure that you stay looking flawless all of prom night.

A great product to use if you are a beginner is the Smashbox Contour Kit. You can purchase it for $45 at your local Sephora. This palette consists of three shades. A contour shade, a bronzing shade, and a highlighting shade. It comes with a mini angled brush perfect to use with this palette. This kit comes with step-by-step instructions on how to contour specifically to your face shape.

If you are already a contouring and highlighting pro, the Anastasia Beverly Hills Contour Kit is a more advanced product to use. It costs $40 and can also be found at your local Sephora or Ulta. This palette is more comes with six different shades of contouring, bronzing, and highlighting colors.



In order to achieve a flawless look, you need to blend, blend, blend. The secret to contouring and highlighting is to make it look like it is not there. If you can distinguish between the darker and lighter shades on your face then you are doing it wrong. To fix this, make sure you have a brush specifically for contouring. A great brush to use is Nars Contour Brush #21. It costs $42 at Sephora, a little more pricey but it is ideal for applying and blending your contouring and highlighting powders.


Knowing where to apply the contouring powder verses the highlighting powder can be a little tricky. It is a good idea to reference an image that lays out exactly where to apply which shade. Here is a basic image of where to apply each powder.



To finish off your contouring and highlighting look don't forget to add blush! Blush will make your cheeks pop and it will add color to enhance your face. You can use any type of blush you like and remember to blend it in! A great go-to blush is Mac Cosmetics Powder Blush which can be bought in store or online for only $22. It comes in just about any shade you can think of and always looks flawless.