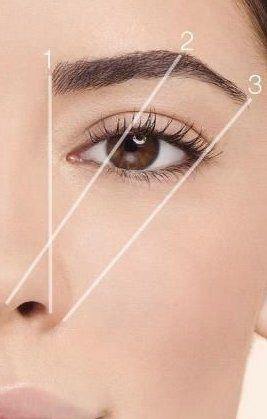 How to: Basic Eyebrow Makeup Guide: Eyebrow makeup is only meant to accent your look, not take it over.  Go easy, go light, and do your eyebrow makeup right!




How to: Basic Eyebrow Makeup Guide for Perfection!
For most women, the eyebrow should begin just above the inner corner of the eye.
To determine where the brow should end, grab a eyebrow makeup pencil and hold the pencil in an angle just beside your nostril pointing towards the outer corner of the eye. This will lead you directly to where each eyebrow should end.
The eyebrow pencil used here is shu uemura hard formula, using short gentle strokes, fill in any areas that need filling and darkening. To avoid over doing the brows, be sure to hold the pencil towards the end to ensure you do not add too much pressure and color. They should be soft, gentle strokes.
To add more definition and have beautifully groomed eye brows, I touched it up with MAC Brow Set in Beguile. This is a brush-on gel that strokes brows into shape while adding a bit of shine to the brows.
Eyebrow Bonus tip: Be sure to never pump your mascara or eyebrow wands in their containers as this will cause your mascara and eyebrow gel to dry out prematurely thereby shortening the length of your product.
Makeup Artist: Martha Contreras

Model:  Miss Teen USA 2011 - Daniel Doty