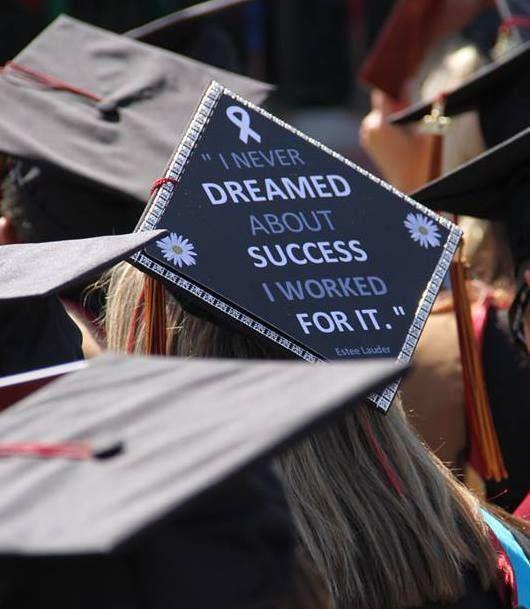 The standard graduation look can be so boring! Everyone is dressed the same, which can make it hard to stand out. However, decorating your graduation cap is a sure fire way to make a statement during your graduation ceremony. From an inspiring quote, to a fun design, your graduation cap is the place to express yourself. Check out these top 12 creative ways to decorate your graduation cap, below.

Save your favorites to Pinterest and share them friends on Facebook and Twitter!
---

1. Floral Graduation Cap
Bring on the flower power!


www.nytimes.com

2. Bye Felicia Graduation Cap
Time to say, "Bye Felicia" and move on!


@redhotxo


3. Monogram Graduation Cap
Get personal and create a unique monogram graduation cap!


904 Custom by HC Brands


4. Quote Graduation Cap
Have a quote that inspires you? Write it on your graduation cap!


ZOEY'S ATTIC


5. Sugar Skull Graduation Cap
An actual skull cap, but pretty and cute.


www.popsugar.com


6. Lion King Graduation Cap
Look inside yourself, you are more than what you have become.


www.findinista.com

7. Just Did It - Graduation Cap
Don't be shy about celebrating your accomplishments.


www.goodhousekeeping.com


8. 99 Problems But a Degree Ain't One - Graduation Cap
Speak your truth!

By Samantha Romero '16 - Trojans 360


9. Bedazzled Graduation Cap
Love to sparkle? Bedazzle your cap!


ideastand.com


10. Dr. Seuss Graduation Cap
A childhood classic.


@jenniferppriest


11. Inspirational Graduation Cap
Inspirational quote + flowers = perfection!


tasseltoppers.com


12. Super Hero Graduation Cap
Perfect for you and your bestie!


pinterest.com

Looking for the perfect graduation dress? Check out our collection at ALYCE Paris