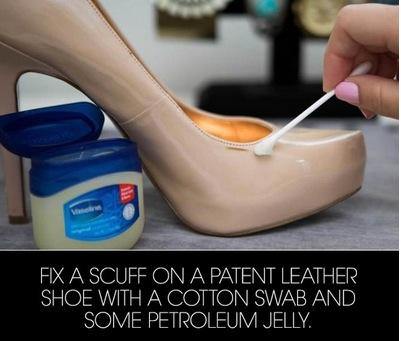 Shoe obsessed? Then you are among friends! One of my absolute favorite ways to express myself and add a fun twist to any look is with a killer pair of heels. From date night, to prom, a cute pair of high heels are the perfect finishing touch to your look. Check out the 10 high heel hacks below for some fun tips and tricks to keep your shoe game on point.

1. Add a Lacey touch
Get your DIY on an up-cycle on a pair of plain pumps by adding a cute lace detail.


photo: buzzfeed.com

2. Pop of color
Paint the sole of your heels for a fun pop of color! You can totally coordinate it to create a custom one of a kind look.


photo: wonderfulengineering.com

3. Fix scuffs
This is a huge life saver! You can fix pesky scuffs with petroleum jelly.


photo: elle.com



4. Add shine
Glass cleaner will make patent leather shoes shine just like new.


photo: cosmopolitan.com


5. Blow dry new shoes
Break in new shoes easily with this heel hack.


photo: whowhatwear.com

6. Moisturize leather shoes
Rub dull leather shoes with a little lotion. This will give them back the "pop" they once had.

photo: beautytips4her.com

7. Know your heel types
This chart will make shoe shopping so much easier.
photo: zontale.blogspot.it



8. Wrap toes
By wrapping your 3rd and 4th toe when wearing heels you can alleviate pressure on the nerve in your foot. This will make wearing heels so much more comfortable.


photo: tinaadamsconsulting.com

9. Store heels with crown molding
You can store and display your heels with crown molding.


photo: homestoriesatoz.com

10. Prevent blisters
Prevent blisters with lip balm.


photo: whowhatwear.com