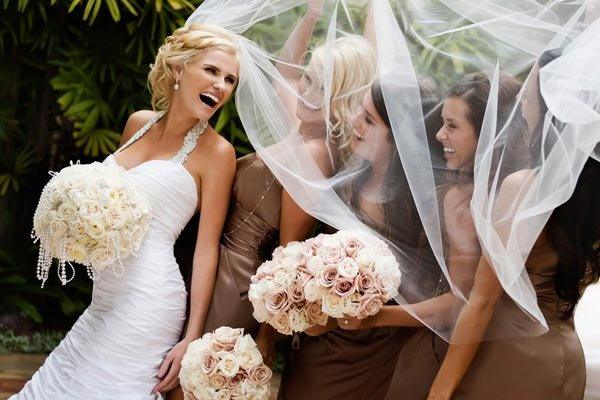 Sure you are going to want to take all those beautiful photographs with your groom at your wedding, but taking some fun photos with your bridesmaids is an absolute must! From getting ready photos to gorgeous shots with your bouquets you are going to want to capture these special moments. Get ready to fill up your Pinterest boards because you're going to love these cute bridal party photography ideas!

1. First Look
Capture your bridesmaid reactions as they see you in your wedding dress for the first time!
2. Under The Veil
Fit the entire bridal party under your veil for a super cute shot!


3. Bouquets
Show off those bouquets with this adorable photo idea.
Photo by Oliver Li from Pexels
 

4. Robes
This is such an adorable pre-wedding photo.
Photo by Caleb Oquendo from Pexels


5. Getting Ready
Every wedding party should take this photo! It's absolutely amazing and made me want to join in on the fun!

Hannah Kate Photography


6. In Bed
Posing on on the bed with your bridesmaids is another super cute way to capture some great photos before the wedding.
 7. Bridesmaids
Have some fun with your bridesmaids and recreate the "Bridesmaids" movie poster. Rebecca Barron and her five bridesmaids added a creative twist to their wedding group shot by recreating the well-known formation from the Bridesmaids movie

Lee Brown Photography


8. Nails
Show off you killer manicures!

Complete Weddings + Events


9. Shoes
Want to show off your stunning shoes? Take a photo of them!

www.theknot.com

 

10. Parasols
This is especially great if it's super sunny outside.

www.mikelarson.com

 

Still Need Bridesmaid Dresses?
Check out our bridesmaid collection HERE.